By connecting to the real world of students' lives, authentic learning enables students to become lifelong learners who contribute to society and the wider world as active and discerning citizens. Authentic learning is central to our work as Catholic educators because it promotes the continual growth and wellbeing of the whole person — spiritually, intellectually, emotionally, socially and physically.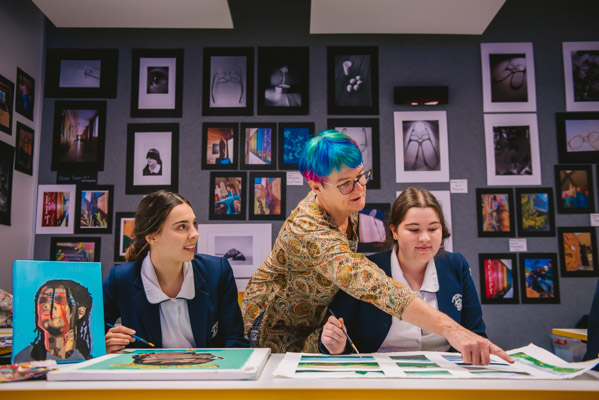 At St Ursula's Catholic College Kingsgrove, our vision for learning is to 'Ignite the Spirit' in all students, inspiring them to develop a deep love of learning.
This is achieved through four learning principles: quality relationships, collaborative partnerships, flexibility and responsiveness, and creativity and imagination supported by state of the art learning spaces.
At St Ursula's, we know that each student is unique and has different interests, abilities, career aspirations and goals.
To support our students, we offer a broad curriculum which integrates our Ursuline Values with the Ursuline Learning Framework to deliver personalised learning, tailored to each student.
Our approach to learning is designed to meet both the educational and socio-emotional needs of young women in the contemporary world.
The curriculum is delivered in ways that are stimulating, supportive and challenging. Student learning is empowered and enhanced by our new learning spaces, which are innovative, flexible and technology-rich.
The College follows the NSW Education Standards Authority (NESA) syllabus for each course offered and implements the curriculum requirements of Sydney Catholic Schools. As well as our own Ursuline Learning Framework, teaching is informed by the Statement on Authentic Learning in Sydney Archdiocesan Schools.
All Years 7 and 9 students complete the National Assessment of Performance in Literacy and Numeracy (NAPLAN) each year, with results usually provided to parents in August.
In Years 11 and 12, we believe it is important for students to undertake an appropriate pattern of study that will enable them to achieve success in the Higher School Certificate (HSC). Our teachers work alongside our students to prepare them well for university, TAFE or other tertiary options, and for their future careers.
Whatever your daughter feels her future is, there is a program of study at St Ursula's available to suit her.