St Ursula's College Kingsgrove is excited to announce that it is the first systemic Catholic school in Sydney to offer the International Baccalaureate (IB) Diploma Programme to its students.
From 2023, St Ursula's students will have the option of completing the IB Diploma Programme or the Higher School Certificate (HSC), giving them the opportunity to choose a pathway to university that best suits their strengths and interests.
The International Baccalaureate is renowned worldwide for working with schools, governments, and international organisations to develop programmes that stretch and engage students to develop international mindedness using a holistic approach to learning that encourages critical thinking, curiosity and independent learning.
IB students are given a unique and diverse education that helps prepare them for their transition into higher education and the world beyond.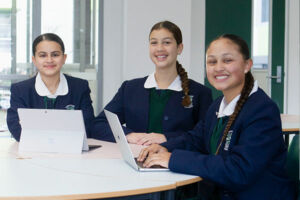 A SHARED PHILOSOPHY
Mary Leask, Principal at St Ursula's, said the college was proud to be recognised as an IB World School.
"The IB's commitment to high quality, challenging, international education is closely tied to the philosophy we have at St Ursula's," Mrs Leask said.
"We believe that through our established and successful Ursuline Learning Framework and strong Serviam culture, our students are  well poised to undertake this internationally recognised qualification" – Mary Leask 
Mrs Leask said it was also important to give students the choice of pursuing either the IB Diploma Programme or the HSC in their senior years.
"Experience at other schools shows that choice is important to students — they feel empowered and in control of their futures," Mrs Leask added.
NURTURING LIFELONG LEARNERS
Dr Kate O'Brien, Director: Education and Research at Sydney Catholic Schools, said the IB Diploma Programme represents a fantastic addition to the St Ursula's community.
"This is an exciting offering for our students," Dr O'Brien said.
"At Sydney Catholic Schools, one of our priorities is to build each student's capacity to continuously reason reflectively, logically and critically" – Dr Kate O'Brien
"The International Baccalaureate will provide students with an alternative, engaging learning experience during their senior years that will help them prepare for life after school," Dr O'Brien added.
Click here for more information on the International Baccalaureate (IB) Diploma Programme at St Ursula's.