At St Ursula's College Kingsgrove, academic life is carefully balanced with the social, emotional and spiritual dimensions of education, in keeping with our philosophy to nourish the whole child.
As a Catholic girls' secondary school, it is our aim to instil in our students a love of learning and the confidence to develop their passions, so that they can go on to become young women of positive action in the world. We believe in order to thrive at school, our students need to know we care about them as individuals, carefully cultivating their intellectual growth and emotional resilience through our specially designed wellbeing programs and Ursuline learning framework. Our College has a proud tradition of challenging every student to reach their full potential, encouraging them to settle for nothing less than personal greatness, while pursuing lifelong learning.
We ignite the spirit through…
Our Ursuline values give students an understanding of and knowledge about their obligation to live the College motto
Welcome to St Ursula's College Kingsgrove. 
Whether you're already part of our school community, a potential member or just curious to find out more, you are very welcome. Located in leafy Kingsgrove in Southern Sydney, we are a Catholic school that has been educating young women in the Ursuline tradition since 1957.
At the heart of all that we do is an authentic spirituality, based on our foundress Angela Merici. She was a Renaissance woman, who believed that educating and empowering young women could transform society.
At St Ursula's, we have a strong commitment to building a sense of belonging. We want each member of our community to experience the joy, hope, peace and strength that comes from a living Catholic faith in the Ursuline tradition. Like St Angela, we believe education can be life-changing. Our great hope is to instil in each of our girls a deep, lifelong love of learning. We work hard to foster a culture that enriches each student's life. We want to open their eyes and awaken their curiosity and wonder so they can pursue new possibilities and develop bold aspirations.
Academic life is carefully balanced with the social, personal and religious dimensions of education. This is in keeping with our Ursuline philosophy, which looks holistically at the child. All that we do at the College is underpinned by our six core values, emphasising acceptance, respect, unity, action, empowerment and service.
Our highly qualified and experienced teachers encourage students to think about what they can achieve in the world and the difference they can make. They create opportunities to nurture each girl's curiosity and self-belief. Students are challenged to take risks in their learning, and to think critically and creatively, through a broad curriculum that caters to the unique needs of each young person.
Our students also have access to an array of additional learning opportunities, through our Newman Selective Gifted and Talented Program, Literacy and Numeracy support, English as a Second Language (ESL) Program and Learning Needs Support Program.
Learning is enhanced by a wide range of co-curricular activities, including debating, music, performing arts, Code Ninjas Club, Environment Group, Duke of Edinburgh, overseas tours and retreats.
Students can also develop their leadership skills, giving them countless opportunities to put into action our College motto: SERVIAM – I will serve.
We offer an array of sporting opportunities for students of all abilities and ages – a valuable avenue for their personal development through team participation. Our students are high achievers in Catholic Girls Secondary Schools Sports Association (CGSSSA) representative sport and enjoy reaching their personal and team goals in a health-conscious environment.
Thank you for visiting our website and I invite you to experience St Ursula's College Kingsgrove for yourself. We hold an annual open day, usually in early March, and accept enrolments from students in Year 5. Our open days give you the opportunity to meet and speak with our staff and our current students, hear about our wonderful learning programs and experience the excellent facilities and resources available to your daughter.
I look forward to welcoming you to St Ursula's College Kingsgrove.
Warmest wishes,

Mrs Mary Leask
College Principal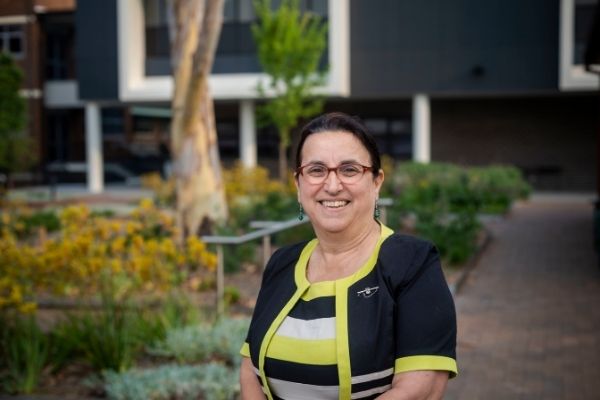 Proudly Part of the Community of Sydney Catholic Schools
Our school is part of a system of over 150 low-fee Catholic schools in the Sydney Archdiocese.
Sydney Catholic Schools are thriving Catholic communities that ignite a love of Christ through excellent teaching and learning to empower students to reach their full potential.